After a comprehensive search, Dr. Mark Brimhall-Vargas joined Tufts as the University's Chief Diversity Officer and Associate Provost on April 6, 2015.  The position of the Chief Diversity Officer supports the University's commitment to diversity, inclusion, and cultural competency. Read more about Dr. Brimhall Vargas.
_________________________________________________________________________
Provost David R. Harris established a search committee to identify the Chief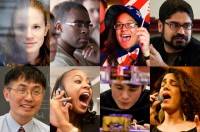 Diversity Officer and Associate Provost for the university. This position was created in direct response to the Diversity Council Report which was approved by the Trustees in November 2013.
The Chief Diversity Officer (CDO) is the principal resource for supporting the university's progress with respect to its diversity and inclusion goals.  The CDO will drive the implementation of the recommendations in the Diversity Council report, overseeing central programmatic initiatives and ensure congruence across the many diversity and inclusion programs that take place in the schools and divisions. Read the full position description here.
Keith Maddox, associate professor of psychology in Arts & Sciences, agreed to chair this committee. In addition to serving on the faculty, Keith is director of the Tufts University Social Cognition Lab whose research programs examine social cognitive aspects of stereotyping, prejudice, and discrimination. The long-range goal of this work is to further the understanding of the representation of stereotypic knowledge and its implications for the behavior and treatment of members of stereotyped groups. Keith also served on the EEOC Committee.
Keith was joined by 16 other members of our university community on this search committee. As of March 14, 2014 members included:
Chairperson:
Keith Maddox, Associate Professor, Psychology, School of Arts and Sciences
Undergraduate Students:
Solana Davis, A15, Women and Gender Studies, Biology, School of Arts and Sciences
Jessica Howard, A17, Undecided, School of Arts and Sciences
Arturo Munoz, A17, Undecided, School of Arts and Sciences
Graduate Students:
Alison Erlwanger, MALD Program, Fletcher School
Daniel Ram, PhD Program, Sackler School of Graduate Biomedical Sciences
Jane West, MA Program, Music, School of Arts and Sciences
Faculty:
Jeff Taliaferro, Associate Professor, Political Science, School of Arts and Sciences
Flo Tseng, Associate Professor, Infectious Disease and Global Health, Cummings School of Veterinary Medicine
Henry Wortis, Professor, Psychology and Pathobiology, School of Medicine
Adriana Zavala, Associate Professor, Art and Art History, School of Arts and Sciences
President's Representative:
Michael Baenen, Chief of Staff
Provost's Representative:
Dawn Geronimo Terkla, Associate Provost for Institutional Research and Evaluation
Executive Vice President's Representative:
Patti Klos, Director of Dining and Business Services
Dean
Huw Thomas, Dean, School of Dental Medicine
Staff:
Katrina Moore, Director, ISIP; Africana Center
Darryl Williams, Associate Dean, Recruitment, Retention and Community Engagement, School of Engineering
*Membership as of 07/02/14.
We also selected DiversifiedSearch to partner with the Committee in the process. Andrew Wheeler, Managing Director and Kim Morrisson, Senior Managing Director of DiversifiedSearch have conducted several successful searches for chief diversity officer type positions in a range of higher education and health care systems. We expected them to be dynamic and effective thought partners in considering how we might shape this position and the kinds of candidates who could succeed in achieving Tufts goals. They met with a wide range of stakeholders on-campus to help inform their work.
The role of the search committee was to screen and select 2-4 finalist candidates who came to campus and met a much broader set of stakeholders. They conducted their work through paper screening, individual interviews conducted by the search firm, and individual interviews with a larger set of candidates. As is the case with dean searches, the provost solicited input from everyone who met the finalist candidates and then made the final decision.