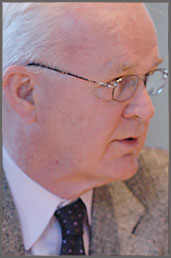 Stephen W. Bosworth is the Dean of The Fletcher School at Tufts University, a position he assumed in February 2001. Prior to his appointment at the Fletcher School, he served as the United States Ambassador to the Republic of Korea from November 1997 to February 2001.
From 1995-1997, Bosworth was the Executive Director of the Korean Peninsula Energy Development Organization [KEDO], an inter-governmental organization established by the United States, the Republic of Korea, and Japan. KEDO is responsible for financing and building two 1,000 megawatt light water nuclear reactors and annually shipping 500,000 metric tons of heavy fuel oil to the Democratic People's Republic of Korea, in exchange for North Korea's agreement to freeze and eventually dismantle its nuclear weapons program.
Before joining KEDO, Bosworth served eight years as President of the United States Japan Foundation, a private American grant-making institution with extensive programs in education, leadership exchange and policy studies. During this period he chaired and co-authored several studies on public policy issues for the Carnegie Endowment and the Century Fund. He also taught international relations as an Adjunct Professor at Columbia University's School of International and Public Affairs from 1990 to 1994. In 1993, he was the Sol Linowitz Visiting Professor at Hamilton College. He also served on various corporate boards and advised several companies on international business issues.
Earlier, Bosworth had a distinguished career in the U.S. Foreign Service from 1961 to 1988, including service as Ambassador to Tunisia from 1979-1981 and Ambassador to the Philippines from 1984-1987. Bosworth also served in a number of policy level positions in Washington, including Director of Policy Planning, Principal Deputy Assistant Secretary of State for Inter-American Affairs, and Deputy Assistant Secretary for Economic Affairs.
He is a graduate of Dartmouth College and later pursued graduate studies in economics at George Washington University.
Bosworth is the recipient of numerous awards, including the American Academy of Diplomacy's Diplomat of the Year Award in 1987, the Department of State's Distinguished Service Award in 1976 and 1986, and the Department of Energy's Distinguished Service Award in 1979. He served as a member of the Board of Trustees of Dartmouth College from 1992 to 2002 and served as Board Chair from 1996 to 1999.
He is currently a senior advisor on Asia for J.P. Morgan Chase and is a member of the International Board of Advisers for the President of the Republic of the Philippines.
Bosworth is married to the former Christine Holmes; they have two daughters and two sons.
Related Web Sites