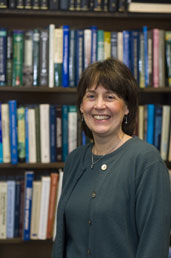 Linda M. Abriola is the Dean of the School of Engineering. She also holds a position as Professor of Civil and Environmental Engineering, and Adjunct Professor in Chemical and Biological Engineering. Dean Abriola is a member of both the National Academy of Engineering (NAE) and the American Academy of Arts and Sciences (AAAS) and is a Fellow of the American Geophysical Union. Prior to her appointment at Tufts, Dean Abriola was the Horace Williams King Collegiate Professor of Environmental Engineering at the University of Michigan.
Dr. Abriola's primary research focus is the integration of mathematical modeling and laboratory experiments for the investigation and prediction of the transport and fate of reactive contaminants in the subsurface. She is particularly known for her work on the characterization and remediation of aquifers contaminated by chlorinated solvents. Dr. Abriola's numerous professional activities have included service on the U.S. Environmental Protection Agency Science Advisory Board, the National Research Council (NRC) Water Science and Technology Board, and the U.S. Department of Energy's NABIR (Natural and Accelerated Bioremediation Research) Advisory Committee. Dr. Abriola served on the NRC's Committee on Ground Water Cleanup Alternatives, which was the first NRC committee to investigate the efficacy of pump and treat technologies, the NRC Committee on Gender Differences in Careers of Science, Engineering, and Mathematics Faculty, and the NAE Offshoring Engineering Workshop Committee. She is currently an elected member of the NAE Council, the governing board of the NAE.
An author of more than 120 refereed publications, Dr. Abriola has been the recipient of a number of awards, including the Association for Women Geoscientist's Outstanding Educator Award (1996), the National Ground Water Association's Distinguished Darcy Lectureship (1996), and the SERDP Project of the Year Award in Environmental Restoration (2006).
Dean Abriola received her Ph.D. and master's degrees in Civil and Environmental Engineering from Princeton University and a Bachelor's Degree in Civil and Environmental Engineering from Drexel University.
Dean-at-a-Glance
Linda Abriola
Title:
Dean of the School of Engineering
Academic Credentials:
B.S. with highest honors in Civil Engineering at Drexel University (1976); M.S. in Civil Engineering at Princeton University (1979); M.A. in Civil Engineering at Princeton University (1980); Ph.D. in Civil Engineering at Princeton University (1983)
Former Positions & Professorships
Horace Williams King Collegiate Professor, Department of Civil and Environmental Engineering; Professor, Department of Chemical Engineering; Director, Environmental and Water Resources Engineering Program; Visiting Scientist, Department of Geotechnical Engineering, Universitat Politecnica de Cataluna, Barcelona, Spain (1992); Visiting Associate Professor, Department of Petroleum Engineering, The University of Texas at Austin; Post-Doctoral Researcher, Princeton University (1983-83); Research and Teaching Assistant, Princeton University (1979-83); Project Engineer, Procter and Gamble Manufacturing Company (1976-78).
Research Interests
Dean Abriola's primary research area is in the mathematical modeling of flow and transport of volatile organic chemicals in porous media. Recent work focuses on the use of models to investigate and elucidate processes involved in the multiphase migration of organics and in aquifer remediation. Abiotic and biotic transformations and their interaction with physical transport mechanisms are being explored through interdisciplinary collaboration with other investigators. Dean Abriola's current projects include investigation of organic vapor transport mechanisms, entrapped organic liquid residual interphase mass partitioning, surfactant enhanced aquifer remediation, bioremediation of solute plumes, and bioventing.
Notable Honors
Elected to the National Academy of Engineering (2003); ISI Highly Cited Author in Ecology/Environment (2002); Inaugural Endowed Lecture of the Drexel University Civil Engineering Alumni Faculty Lecture Series (2001); Elected Fellow of the American Geophysical Union (2000); College of Engineering Teaching Excellence Award, The University of Michigan (1998); Excellence in Service Award, Department of Civil and Environmental Engineering, The University of Michigan (1997); Outstanding Educator Award, Association for Women Geoscientists (1996)
Notable Professional Affiliations
Member, National Research Council; Member and Invited Speaker, United States Environmental Protection Agency; Member and Invited Participant, United States Department of Energy
Related Web Sites
E-Mail