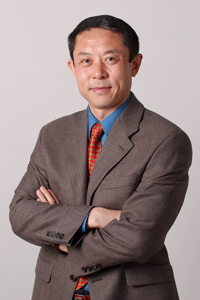 Jianmin Qu is Karol Family Professor and Dean of Tufts University School of Engineering, where he holds an appointment in the department of Mechanical Engineering. Dr. Qu received his Ph.D. and Master's degrees from Northwestern University in theoretical and applied mechanics and is a fellow of the American Society of Mechanical Engineers.
Prior to joining Tufts, Dr. Qu was a Walter P. Murphy Professor in the McCormick School of Engineering and Applied Science at Northwestern University, where he chaired the Department of Civil and Environmental Engineering from 2009 to 2015. Before returning to his alma mater in 2009, Dr. Qu was on the faculty of the School of Mechanical Engineering at the Georgia Institute of Technology from 1989 to 2009.
Professor Qu's research focuses on several areas of theoretical and applied mechanics including micromechanics of composites, interfacial fracture and adhesion, fatigue and creep damage in solder alloys, thermomechanical reliability of microelectronic packaging, defects and transport in solids with applications to solid oxide fuel cells and batteries, and ultrasonic nondestructive evaluation of advanced engineering materials. He has authored/co-authored two books, 12 book chapters and over 190 referred journal papers in these areas with an h-index of 43. His research has been sponsored by the National Science Foundation, the Office of Naval Research, the U.S. Air Force, U.S. Army, DARPA, the Department of Energy, and many industries including Motorola, Ford Motor Co., IBM, AT&T, General Electric, Intel, AMD, and Northrop Grumman.
Dean-at-a-Glance
Jianmin Qu
Title:
Dean of the School of Engineering
Related Web Sites
E-Mail