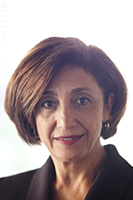 Vice Provost for Research
As Vice Provost for Research, Dr. Meydani works with faculty and university leadership to develop and help implement strategic research priorities at Tufts, advocates for the research and scholarship mission of all disciplines across all schools, facilitates strategies to enhance extramurally supported research across the schools from all sources, accelerates interdisciplinary initiatives, and promotes university research accomplishments. She oversees pre-award and non-fiscal post-award development and administration of grants and contracts; protection, management, and licensing of the University's intellectual property; the use of human subjects and laboratory animals in research; and the implementation of the University's policies on conflict of interest in research and misconduct in research and scholarship. The Office of the Vice Provost for Research works with other administrative offices to create an environment at the University that encourages and facilitates both disciplinary and interdisciplinary research. The Office strives to provide high quality services to the faculty and to increase the funding available to support research while protecting the University's interests and assuring that Tufts is in compliance with all relevant laws and regulations.
Dr. Meydani joined the Tufts academic community over 30 years ago, first as a scientist at the JM-USDA Human Nutrition Research Center on Aging (HNRCA) and eventually as an HNRCA lab director. Since 2009 until her appointment as VPR in 2016, she served as Director of the HNRCA. As VPR, she continues to Direct of the Nutritional Immunology Laboratory. Additionally, she is a Professor of Immunology at the Sackler Graduate School of Biomedical Sciences, and a Professor of Nutrition at the Friedman School of Nutrition Science and Policy. Prior to Tufts, she conducted research at Brandeis and Harvard University. Throughout her career, she has mentored many students, young scientists and faculty.
Dr. Meydani's scientific interests include the basic mechanisms of aging, impact of nutrition on the aging process and age associated diseases, role of nutrition on immune and inflammatory responses, and predisposition to infectious diseases in developed and less developed countries. Her research is multidisciplinary and expands from cell and molecular to animal and clinical investigations. She is an internationally recognized scholar with more than 300 publications and over $40M of continuous NIH, USDA, industry and foundation research funding as principal investigator or co-investigator and serves/has served on several NIH study sections, industry and foundation grant review committees and advisory boards. She has received several awards in recognition of her scientific contributions.
Dr. Meydani holds a D.V.M. (Tehran University), an M.S. in Nutrition (Colorado State University), and a PhD in Nutrition (Iowa State University).
Vice Provost for Research-at-a-Glance
Simin Nikbin Meydani
Title
Vice Provost for Research
Academic Credentials
D.V.M. from Tehran University (1975), an M.S. in Nutrition from Colorado State University(1977), a P.h.D in Nutrition from Iowa State University(1981).
Tufts Affiliations
Center Director, JMUSDA Human Nutrition Research Center on Aging
Lab Director, JMUSDA Human Nutrition Research Center on Aging
Senior Scientist, JMUSDA Human Nutrition Research Center on Aging
Professor, Gerald J. and Dorothy R. Friedman School of Nutrition Science and Policy at Tufts University
Professor, Immunology, Tufts University Sackler School of Graduate Biomedical Sciences
Selected Professional Affiliations
American Society of Nutrition, Past President and Board Member
American Aging Association, Past President and Board Member
American Association of Immunologists
Research Interests
Nutrition, lifestyle and prevention of age-related diseases and disabilities with particular focus on immune and inflammatory diseases, basic mechanisms of age-related changes in immune and inflammatory responses.
Select Representative Publications
Meydani,SN, Das, SK, Pieper, CF, Lewis, MR, Klein, S., Dixit, W,  Gupta, AK, Villareal, DT, Bhapkar, M, Huang, M, Fuss, P, Roberts, SR, Holloszy, JO,Fontana, L. Long-term moderate calorie restriction inhibits inflammation without impairing cell-mediated immunity: a randomized controlled trial in non-obese humans. Aging, 2016, DOI: 10.18632/aging.100994.
Barnett JB, Dao MC, Hamer DH, Kandel R, Brandeis G, Wu D, Dallal GE, Jacques PF, Schreiber R, Kong E, Meydani SN. Effect of zinc supplementation on serum zinc concentration and T cell proliferation in nursing home elderly: a randomized, double-blind, placebo-controlled trial. American Journal of Clinical Nutrition 2016 Jan 27 (Epub ahead of print; DOI: 10.3945/ajcn.115.115188); 2016, 103: 942-951.
Bou Ghanem EN, Clark S, Du X, Wu D, Camilli A, Leong JM, Meydani SN. The alpha-tocopherol form of vitamin E reverses age-associated susceptibility to Streptococcus pneumoniae lung infection by modulating pulmonary neutrophil recruitment. J Immunol, 2015, 194(3): 1090-9. PMID: 25512603. *Equal contributors
Gay RT, Belisle S, Beck MA, Meydani SN. An aged host promotes the evolution of an avirulent coxsackievirus into a virulent strain. PNAS, 103: 13825-13830, 2006.
Meydani SN, Leka LS, Fine BC, Dallal GE, Keusch GT, Singh MF, Hamer DH. Vitamin E and respiratory infections among elderly nursing home residents: a randomized controlled trial. JAMA, 292:828-836, 2004.
Wu D, Marko M, Claycombe K, Paulson KE, Meydani SN. Ceramide-induced and age-associated increase in macrophage COX-2 expression: role of NF-kappaB. J Biol. Chem., 278: 10983-10992, 2003.
All Publications (Pub Med)
Related Websites:
Office of the Vice Provost for Research
Email: Simin Meydani